This is one of those beautiful moments you hear about where the stars align for two companies. Like an epic romantic tale, two globally-renowned organizations were seemingly destined to work together. For some time now, we envisioned a world where everyone purchased Visible wireless services and to our joyful surprise, they came to us, money in hand, asking us to share that exact message. What glorious kismet!
We've long admired Visible's all-in unlimited talk, text, data + mobile hotspot for only $40/ mo on Verizon's 4G LTE network and we were already planning to share this information with you all today. In fact, we had already written this entire article weeks ago.
We were chomping at the bit to tell you, our dedicated readers, all about Visible's industry-shaking Party Pay Plan which lets you pay as low as $25/mo when you join with three other people (friends, family, classmates, lovers, or even strangers!) before any money was offered. Then, the coincidental miracle occurred! They presented us with several stacks of American dollars to write the very post you are reading right now with your own beautiful eyes! It's like a timeless love story, like Romeo and Juliet if both the romantic leads were companies instead of young Italians.
This never happens. So often we're asked to write about some lackluster brand that sparks no passion in our hearts and they always tell us what to say. Not today! Well before currency was exchanged, we were dying to tell you that you can get the new iPhone SE for as low as $16/mo when you switch to Visible, independent of our business relationship. Although we did sign a contract to receive money for this article, Visible has no annual contracts. Don't believe us? Here's proof!
So we urge you to click away. These links will take you to the Visible website where you can bask in the glow of unlimited data, the 4G LTE network, and uncapped speeds. Just to make sure you don't miss this opportunity, we're going to share the link 5 times in a row, which we planned on doing well before we got paid tens of dollars by Visible.
G/O Media may get a commission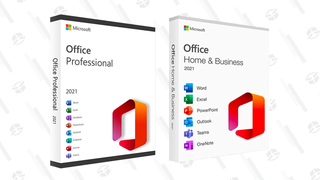 89% off
Microsoft Office Professional 2021 Lifetime License
Get your mouse finger ready!

Look at them in all their glory. Oh, what splendid serendipity!